PLEASE NOTE:
Looking at the ice at the Center currently, I expect to not have skiing available this week. This page will be updated if the weather takes a change for better conditions.
Thank you
It's a pleasure to open up the Cameron Lake Outdoor Education Center for community use this winter. Come out to enjoy some winter recreation and show your support.
Public skiing will be available Thursday and Friday 1-4 pm and Saturdays from 9 am – 3 pm.
Please note that some days will not be open if Coordinator is in class presentations and not available. Please refer to the availability calendar before planning your day. We are always open to having a volunteers sit in in these cases to remain open as planned and offer addition ski days.
Want to be a volunteer?  Email cameronlake@prn.bc.ca
Open times are weather permitted. This page will be updated in the event of a closure.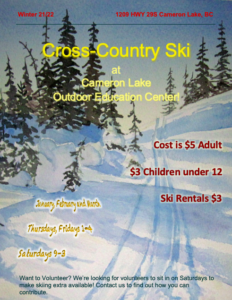 Please refer to the following calendar to see available public access dates.
January

2022

Sun
Mon
Tue
Wed
Thu
Fri
Sat
Come enjoy the wilderness!
PLEASE NOTE:
The Center is available for private rental throughout the year. Please visit our private bookings page for more information. 
Watch for upcoming events and other public use opportunities.
THANK YOU
to those who have volunteered their time to help out at Cameron Lake this year! 
There is always fun and rewarding work to be done and volunteers are always welcome!
Contact the Coordinator to find out how you can contribute.
Located at 1209 HWY 29 S, 25km south of Hudson's Hope.