The Cameron Lake Outdoor Education and Environmental Studies Center is owned by School District 60 and is available for use by all district staff, pupils and public by request. The Center is located in a natural Boreal forest setting on the shore of Cameron Lake, 25km South of Hudson's Hope on Highway 29.
The Center is used primarily for school use for environmental learning and student recreation. It is available also for public use, suitable for a variety of events, such as private family rentals, weddings, banquets, reunions, organized events, camping and more. Public users are currently required to privately book the space for use. Please see the Booking The Center page for more information regarding public use.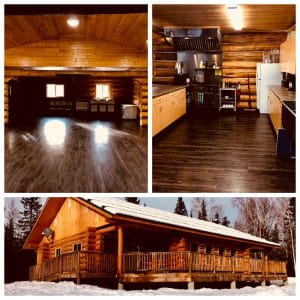 The kitchen is a fully equipped industrial style kitchen. All dishes and cookware are provided.
4 Bathrooms are concrete outhouse structures
Each dormitory will house 48 people.
Heated showers on site (NEW!)
The Center can accommodate 100 people for overnight stay indoors. 200 maximum with RV and tenting.
The Center provides access to 18 Hectares of usable space.
27 km of trail both inside and outside of property boundaries with beautiful viewpoints.
11 km of designated cross country ski trails.
Equipment available for on-site use. Public users may be required to pay a deposit or rental fee for select equipment. Some equipment is limited to school group use only.
There are 15 Mountain Bikes and more helmets available.
5 Tandem canoes, 1 Voyager Canoe and one Dragon boat.
Archery Equipment
There are +/- 100 sets of skis and boots ranging from child to adult.
1600 square feet of traversable climbing space
A risk-play or Challenge Course area.
Science lab equipment for Environmental Studies.
BBQ
A large open field.
Please choose one of the following booking categories
SCHOOL GROUPS
All school district day or overnight visits.  Please fill out the School Booking Form
PRIVATE RENTAL (<25 Guests)
Family or small private gathering less than 25 people. Please fill out the School Booking Form
EVENTS (25+ Guests)
Groups greater that 25 people such as weddings, reunions, festivals or other large gatherings. 
PLEASE NOTE: 
For questions about using the facility, Please contact
Lorenne Hamre, Outdoor Education Coordinator (cameronlake@prn.bc.ca (250) 687-0466)
Calendar
November

2022

Mon
Tue
Wed
Thu
Fri
Sat
Sun